ZINC REMELTING SYSTEM WITH AUTOMATIC DISTRIBUTION SYSTEM TO THE MACHINE FURNACES
The system consists of 3 components: Furnace charging system, Zinc remelting furnace, Liquid metal charging system.
Furnace charging system
The material for melting is tilted with the collecting container directly into the furnace on demand of the bath level sensor.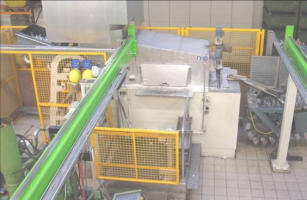 Zinc remelting furnace
The  electrically heated zinc remelting furnace with melting capacity of 1 metric ton/h, is the heart of the complete system.
The metal discharge is planed with 2 dosing pumps, either for the charging furnace or for the ingot casting conveyer.
The furnace has a melting and warm holding chamber.
We also offer gas and oil heated zinc remelting systems of different sizes.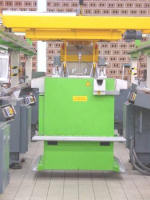 Liquid charging system
The automatic liquid metal charging system guarantees a minimal bath level,flucation an the maximum possible energy saving.